Welcome to Hatha Yoga Space!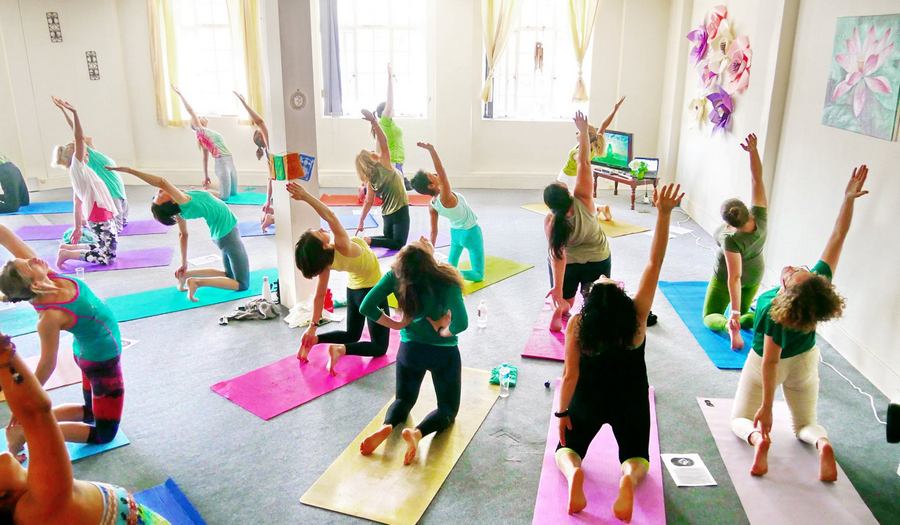 Can Yoga empower us to authentically express our unique selves?

Yes!

Can Yoga enhance our experience of the world?

Definitely!

Can Yoga bring more joy and fulfillment into our lives?

Absolutely!
Based on our own experiences and the feedback from our numerous students, the practice of Yoga has the power to transform every aspect of life. Through regular practice, you can set a new course for your life and establish a profound connection between your body, mind, and soul, guiding you along a path that resonates deeply within.
Suitable for all levels
We offer a range of classes, catering to absolute beginners and advanced practitioners alike. Our classes are thoughtfully designed to allow everyone to progress at their own pace, experiencing joy and nurturing care throughout the journey.
Different styles and teachers
Experience different styles of Yoga and learn from various teachers with our Two Weeks Unlimited pass. Explore and discover what resonates with you and what brings you the greatest benefits.
Classes every day! Retreats and Workshops!
We offer daily classes, ensuring you have plenty of options to incorporate regular Yoga practice into your life. Whether it's morning or afternoon, weekdays or weekends, we have a schedule that accommodates your needs, making Yoga a cherished and healthy habit.
Would you like to read more on the philosophy of Hatha Yoga Space?

The term "Hatha" (हठ) holds the connotation of persistence and force. Through the exploration of Buddhist tantric commentaries and ancient yoga texts predating the Hatha Yoga Pradīpikā, it has been discovered that the adverbial usage of the word "HATHA" (हठ) suggests that it refers to the concept of force. Instead of the metaphysical explanation of uniting the sun (ha) and moon (ṭha), it is more likely that the name "haṭha yoga" was inspired by the meaning of "force." In this context, force is described as making a way through physical strength or energy associated with action and movement.

The term "Yoga" (योग) signifies the restraint of the automatisms of the mind. A line from Patanjali's Yoga Sutras, "योग: चित्त-वृत्ति निरोध" (Yogaḥ citta-vṛtti nirodha), literally translates to "Yoga is the restraint of the fluctuations of the mind." If we replace "fluctuations" with "automatisms," it becomes "Yoga is the restraint of the automatisms of the mind."

The term "Space" represents the nurturing environment crafted by our passionate team at Hatha Yoga Space. It encompasses professional guidance, valuable advice, and the overall ambiance of our studio. We warmly welcome all professional Yoga teachers who wish to share their knowledge and energy, contributing to the growth and development of our shared Hatha Yoga Space.

Hatha Yoga is a transformative practice that benefits every individual, as it utilizes the human body to harness control over the human mindset, which greatly influences the quality of the reality we experience. The healing effects of Hatha Yoga are pleasant side effects that come from regular practice. Additionally, specific techniques from the vast arsenal of Hatha Yoga can be employed to improve specific conditions, giving rise to Yoga therapy. This therapeutic approach taps into the healing potential of Hatha Yoga to directly treat health disorders such as back pain, headaches, irritability, insomnia, and more.

At Hatha Yoga Space, we do not limit ourselves to a specific style of Hatha Yoga. Instead, you will find qualified Yoga teachers from various schools of Yoga offering classes for all levels, from beginners to advanced practitioners. Join us in our classes and experience the profound difference for yourself!

We look forward to having you as part of our community, where you can embrace the wisdom of ancient Hindu traditions and embark on a transformative journey of self-discovery and well-being.
Are you ready to see out timetable and take off?
All our Yoga classes are live streamed online, helping you to maintain healthy body-mind and unbreakable spirit :)
You can access online classes from any lication at times shown on our Timetable in AEDT timezone. All classes are done in an interactive mode so you can choose to be visible to the teacher and be advised during the class.
You can also get access to our library of video recordings to practice at your own pace.
Get access to our online classes!
Private Classes
With personal attention you will improve 10 times faster!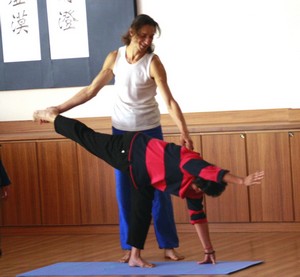 While group classes are designed to cure usual body-mind imperfections and develop general human abilities, specific physical limitations may prevent you benefiting even from simple postures. Individual teaching was traditionally applied in Yoga and Yoga Therapy. It is the best solution to eliminate all disappointing body limitations and discover one's unique potential.
Remember, you are unique! Dedicated and correct individual Yoga practice is capable to unleash your hidden abilities awakening snoozing features of unique nature. This concealed potential is able to juice up your life with all that undiscovered perspectives you was born to enjoy.
There are no doubts, Private Classes are to be a perfect approach to all the treasures of doing Yoga. It can be a great addition to group classes as well. It's good to combine!
Contact us to find out more.
We are happy to support you on your way to unbounded happiness!
Pricing
1-on-1 Yoga class is $100